Aging in Place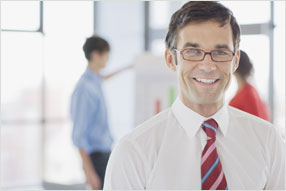 "Aging in place" means staying in your current residence as you get older. According to a 2010 AARP survey of people aged 45 or older, 86% of the respondents either strongly or somewhat agreed that they wished to stay in their current residence for as long as possible.1 For the most part, by the time you reach retirement age, you've gotten settled somewhere you like and don't want to leave.
Getting Ready to "Age in Place"
Although many people age 45 and older wish to age in place, according to 2011 research by the Massachusetts Institute of Technology AgeLab and others, less than 30% of the people in this age group have devised a plan to make this desire a reality. If you want to age in place, you'll need to make some accommodations, and do some planning, to make sure you can stay in your home without difficulty.
Home Accessibility
You will probably lose some agility as you get older. So starting looking into refitting your home so it has:
Your bedroom, bathroom, and kitchen on the ground floor (or a single floor for elevator buildings)
Raised (ADA) height toilets and grab bars in the bathroom
Ramps or lifts where necessary
Doorways wide enough to allow access by walkers and wheelchairs.
Home Maintenance
If you're aging in place, you'll be in your place for a long time, so at some point major items will probably have to be replaced or repaired—perhaps even a few times. Plan on having the resources to:
Replace major appliances, like your range, clothes and dish washers, air conditioning, etc. Don't forget less obvious equipment like water heaters, furnaces, and well pumps.
Paint exteriors and interiors, replace the roof, replace or repair windows.
Install a backup source of electricity, if necessary.
Have someone to mow and maintain the yard, and clear ice and snow if you're staying in a northern climate.
Home Safety
Safety devices, such as smoke detectors, should be in every home. As you get older, this equipment becomes essential. Make sure your home has or can readily be furnished with:
Smoke and carbon monoxide detectors (required by law in some areas)
Forced entry alarms
An emergency medical alert system (which will summon emergency assistance when triggered by, for example, pressing a button on a necklace or bracelet)
Transportation
Driving will be more and more difficult, and maybe even less convenient, over time. Even if you plan on living in an urban area, make sure that your area has:
Adequate sidewalks that are well maintained and extend to the places you'll want to go to
Public transportation is adequate, affordable, and dependable—and allows access by walkers and wheelchairs
Transportation services available specifically for seniors or impaired persons
Someone nearby who can help
Personal or Household Assistance
Finally, you may eventually need help doing routine chores around the house or shopping. Or you may need assistance with medical equipment or conditions. So do some research to make sure there are reputable homemaking and visiting nurse services near you. These services are can be provided by either private, state, and/or local agencies.
1 Teresa A. Keenan. Home and Community Preferences of the 45+ Population. AARP. November 2010.