Staying on Track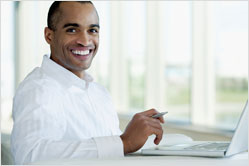 You've been saving for retirement for how long now…10 years? 15 years? When was the last time you looked to see if your savings strategy was still a good fit for your life and your retirement needs?
It can be hard to focus on retirement issues when dealing with the immediate needs of everyday life. But as your life changes, so do your needs. What worked for you before may not make sense today.
That's why we strongly recommend you take a little time at least once a year to look at your retirement strategy-how much you're saving, how your account is doing, your investment choices, etc. And you don't have to do it alone. Your financial professional can help.
Why Save (Just a Little) More
How many times have you decided that you could afford just a "few dollars" more to pay for something you wanted—a water dispenser in your new refrigerator; more memory in the cell phone you're buying; a sunroof in your new car; the retirement you want. Yes, the retirement you want!
Increasing how much you save for retirement by just a few dollars can have a significant impact on your retirement finances. Remember, there is no magic number on how big an increase in savings has to be. Even $10 more a month is worth doing—that $10 could add up to almost $10,000 over 30 years. And $20 more each month could be worth almost $20,000 when you retire.
So take a look at how you're spending your money now to see if you can find a few dollars to put toward your retirement. Or think about increasing your savings percentage each time you receive a pay raise. These are just a couple of ways you can build your retirement savings…one piece at a time.