Let the Power of Compounding Work for You

"Compounding" is the potential to earn "interest on the interest" in your retirement plan account. So, the more years until retirement, the more the power of compounding can work for you.
Consider Chris and Tanya. They've been friends since high school. When she's 25, Chris starts saving $4,800 a year using his employer's tax-deferred saving plan. Tanya waits 10 more years - until she's 35 - to start saving the same $4,800 per year in pre-tax contributions. Assuming both accounts earn a 6% annual rate of return, when Chris and Tanya turn 50, Chris will have more than twice as much in his retirement account as Tanya.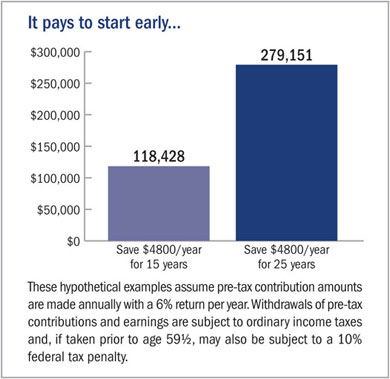 To get a better idea on how time and savings rates can affect your specific situation, click here for our Savings Goals calculator.